It's well known that Subversion branching has lacked functionality compared to Git. It's something our SVN customers have often struggled with. Since we support both Subversion and Git, we wanted to give the same powerful tools to our growing Subversion customers that our Git customers have come to love. Chris Ledet and Eugene teamed up and delivered something amazing.
I'm very happy to introduce the Subversion Branches page. It's now possible to create a productive branching workflow for your team, directly from the Beanstalk interface. You can create, merge, reintegrate and even compare Subversion branches in Beanstalk.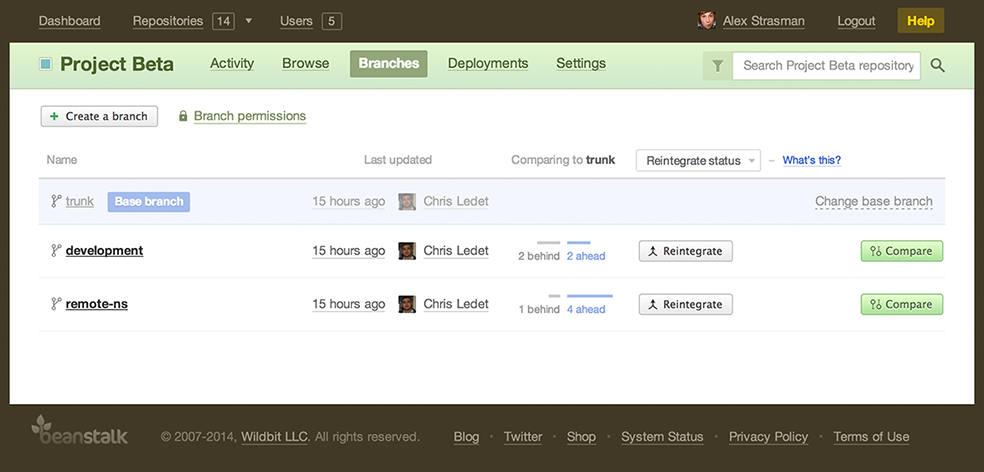 Instantly create new branches
From the branches page, you can view all current branches that reside under the /branches directory, or a directory of your choice. You can then quickly create a new branch from the interface. This makes it easier to start a new update or feature in a new branch, isolating your work from the main trunk.

Merge and Reintegrate
As you work in branches, it's important to keep your branch up to date as changes are made to trunk. This avoids further conflicts as you continue to make changes. Merging changes from trunk can be initiated directly from the Branches page as often as you'd like.
In addition, when a feature is tested and ready, you need to reintegrate it back into the stable branch or trunk. With the new Branches page, this is a one-click operation. Everything happens automatically without ever touching command line.
Compare view for Subversion branches
The ability to compare branches in Git is taken for granted. In Subversion however, it was mostly regarded as impossible. There are no native tools to make this happen. We feel that comparing is an essential tool for teams to work in branches, so we we made it possible. You can now compare the differences between any branch, including lines of code, contributors, tickets from integrations and files changed.
To learn more about branches in Subversion, read our in depth guide.
While Git is growing fast, we still consider Subversion a worthy system for managing code. Our commitment to Subversion is here to stay and we'll continue to innovate on features like the Branches page. We're really excited about this update and would love to hear your feedback.